If you're interested in this figure, you can find available offers by clicking here.
Read a transcript of this video with images below.
Hey, what's up guys? Welcome back to another video. Today I am super excited to show you guys an awesome Dragon figure. This figure is a Russian, and his name is Sasha, and he is super nice.
So let's get started by showing you the box. All right. World War II, Poland 1944. As I said, he's part of the Red Army. And this figure is a private. There's a picture of the figure, really cool artwork. Here's the back of the box with his equipment. There's the inside. And this one was released in 2002. All right, there is the box.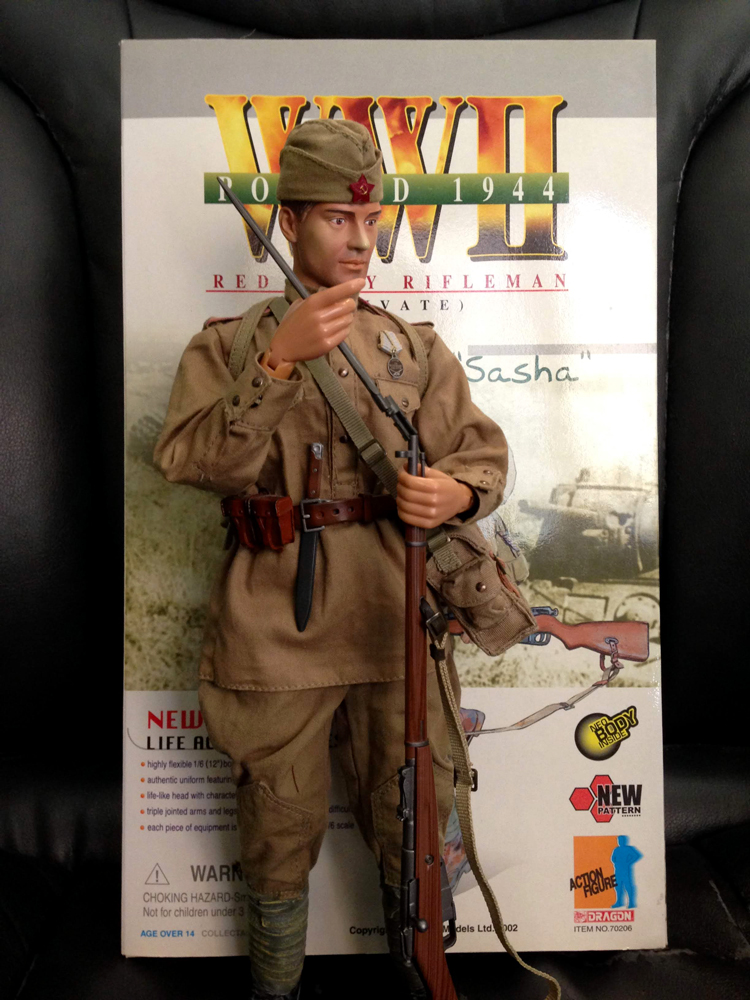 Here is the figure. This is Sasha. All right, guys, this is an awesome figure. The Russian figures are very difficult to find and are generally very expensive, especially this figure. I haven't seen this one pop up in ages, so I was super excited to find this one. I got him for $50 off eBay, which is a pretty good price considering how rare this figure is. And, yeah, so I'm really excited to have this one finally. He is really, really cool. I'm really liking this one a lot.
Let's show you his rifle here. He poses really well with this, you get some really neat poses here. Also, he comes with a bayonet. I have that attached to his belt, let me take that off and attach it to the front of his rifle. Okay. There's a look at that. That looks really cool.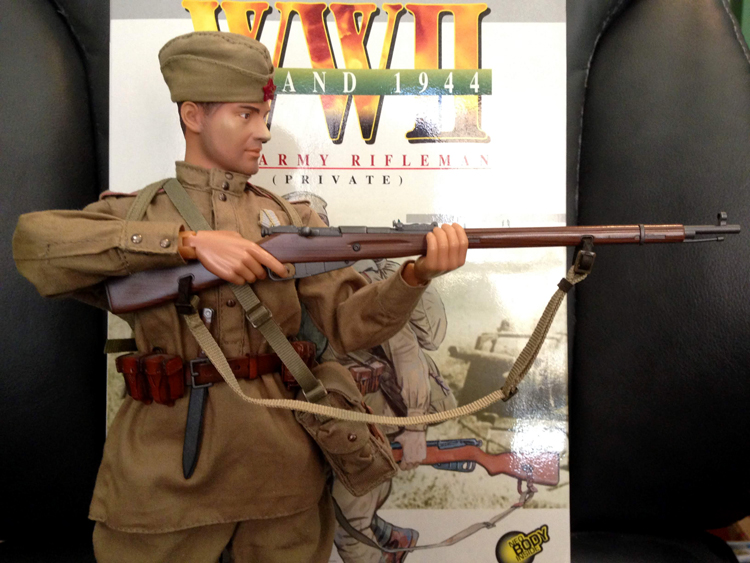 I'm not sure the name of this rifle, but there's not a lot of features on it. Nothing pulls back or anything, or pops open, but it's a very nice rifle. Got some nice details on it. I like the wooden design there, that's really cool. I also like the strap here. It seems very sturdy. It looks very nice. And also, a really cool option here to have the bayonet. That's very nice.
All right, let's take a look at the figure's head sculpt here. All right. I really like his head sculpt, and I love his hat that he's got on there. I think that looks awesome. Here's a better look at that. I love the Red Army insignia in the front. And here's a better look at the head sculpt. All right. This guy has some pretty cool accessories here on his back. Let me get the name of this. It's called a meshok, probably not saying that right, but kind of like a backpack here. And let me take this off.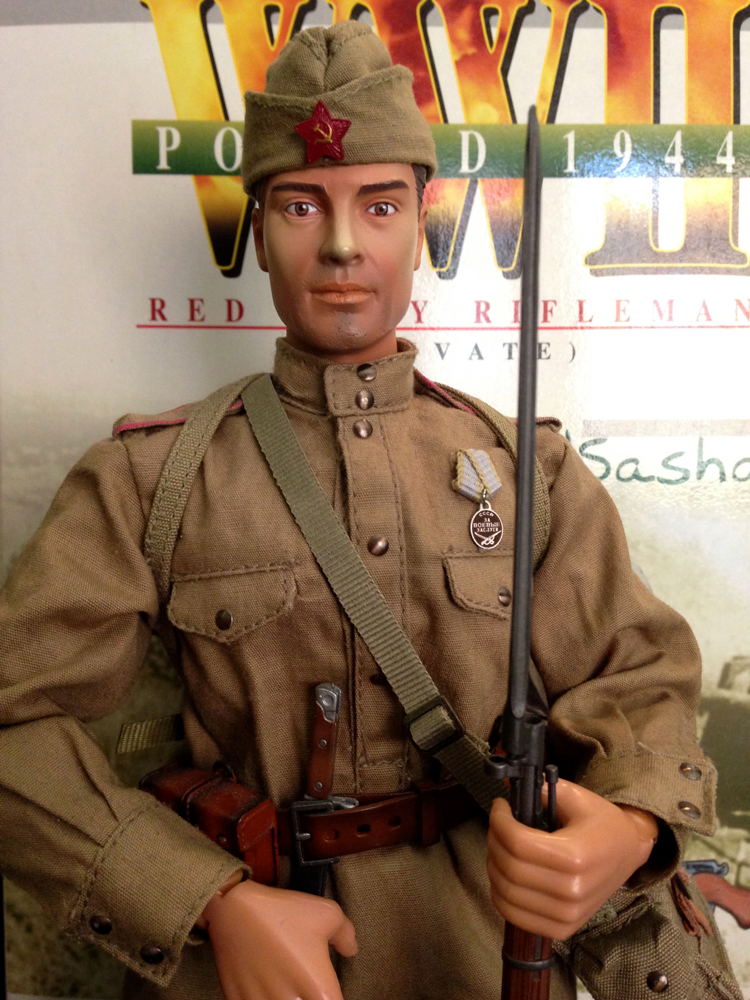 Inside he has some sort of, I think it's a sleeping bag or something, but I tucked that inside. Here it is, all rolled up. It looks like a sleeping bag or a tent or something like that. That's a cool accessory. Also, if you want, you can roll this up, and I guess you can kind of strap this around his shoulder for a different look. I prefer it in this myself. I'm assuming it goes in here.
Okay. He has a bag here. This is apparently a gas mask case. This is really cool. There's nothing inside of it, but very nice accessory. All right. Also we have, on his belt, you've got a shovel here. Let's see if I can get this out of here. Also we have a water canteen.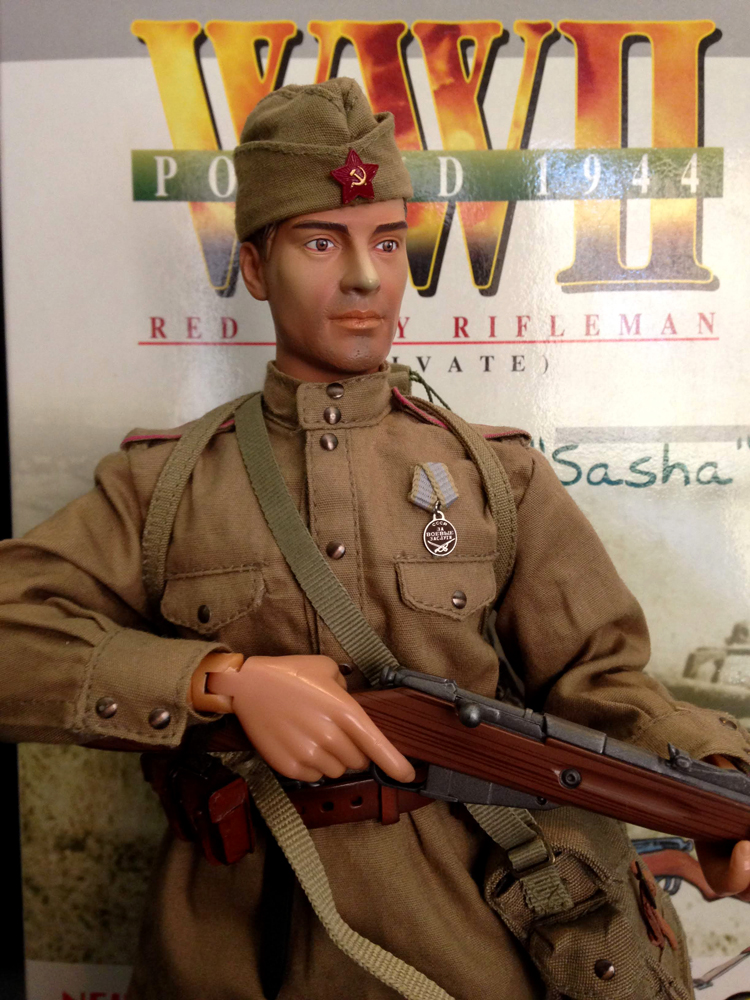 And overall, I like the belt. Some of the Dragon belts can be a little flimsy, and they often tear, but this one seems very durable, so I like this one a lot. But on the side he has some more ammo patches, I'm assuming. Very cool. And also he has a knife with its sheath, also very nice. Let me go ahead and take off the belt, give you a better look at that.
One last accessory that came with the figure is, he does have a medal. Not really sure what that stands for, but I just think that looks awesome on the figure. Yeah, I love the way that looks.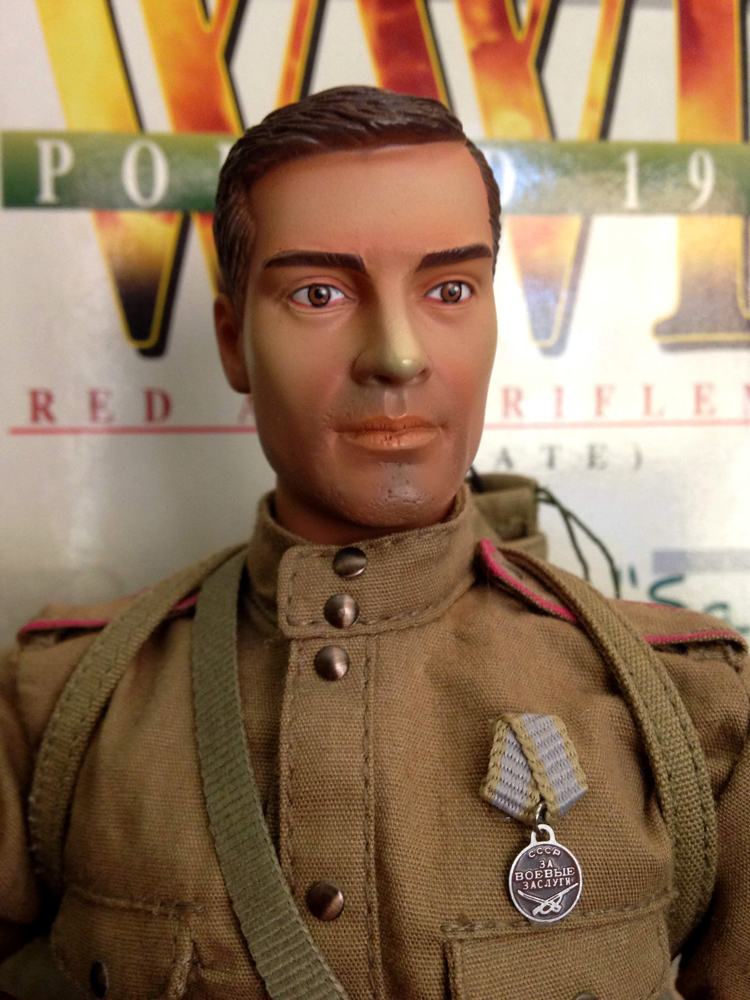 As for his uniform, really liking his uniform here. I love his shoulder pads up top. It looks very nice. Got some cool pants here. And his boots are also very cool. I love the wrappings around his ankles there. It looks very nice.
All right, guys, so that is the Dragon figure, Sasha. This guy is awesome. I totally recommend him if you can find him. He's very hard to find, but very well worth the price you pay for him. So hope you can find this guy if you're interested. Thanks for watching another review. I do have another Dragon figure on the way, which is also a Russian figure. So very excited to show you that figure when he comes. Thanks for watching, guys. And I will see you next time.