If you're interested in this figure, you can find available offers by clicking here.
Read a transcript of this video with images below.
Hey, what's up, guys? Welcome back to another review. And today, I have a very nice German Dragon Figure to show you. This guy is Ludwig Bochmann and he was released in 2007. Now, just a quick story here. I don't know how familiar you guys are with this figure. As for me, I never knew this guy existed until a few months ago. I saw him pop up on eBay. I was starting out on a low bid. And I tried to bid for him because I had never seen this figure before and I thought he looked really cool. But he skyrocketed up to like I think over 100 bucks and I was amazed at how expensive he was.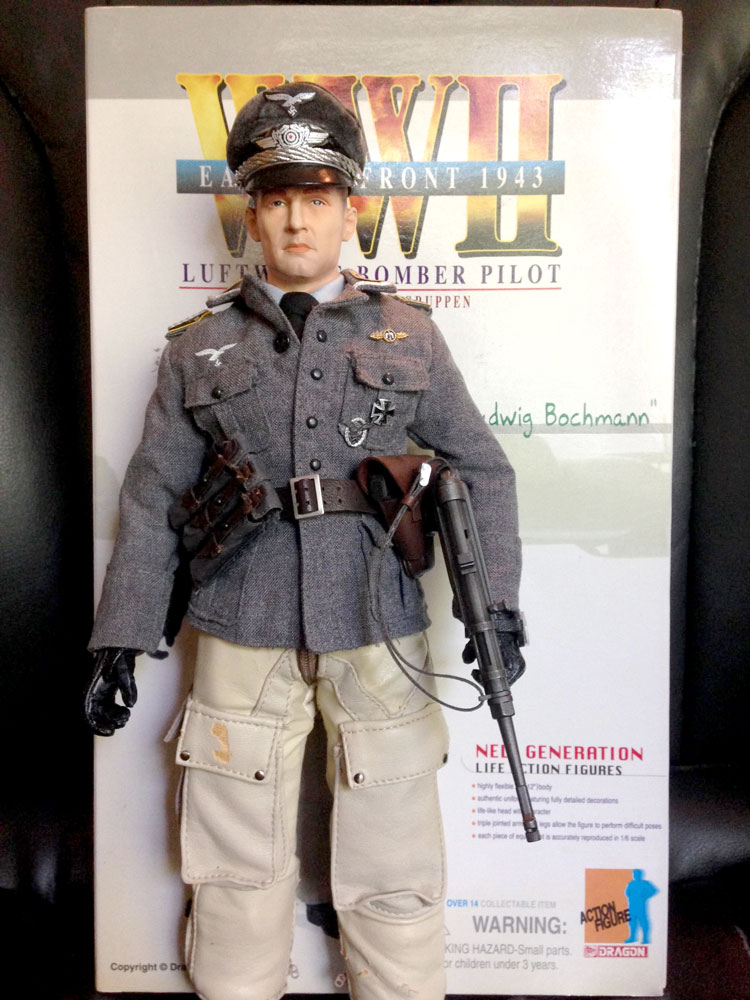 But ever since then, I've been trying to track this figure down because he is super rare, very hard to find. In fact, there's one on eBay but he's going for $225 which is insane. But I finally got this guy and I don't know how. I just got really lucky, I think because I saw this guy last week on eBay starting out for a low bid. There were 22 people watching this figure so I knew it was going to go up really high.
I don't know what happened because the day the auction ended, nobody bid. I think there were like five bids in total, but I was able to win it for $34. I don't know how it happened or where the other bidders went. I guess they were all asleep. So happy I was able to snatch this super rare figure up for such a good price.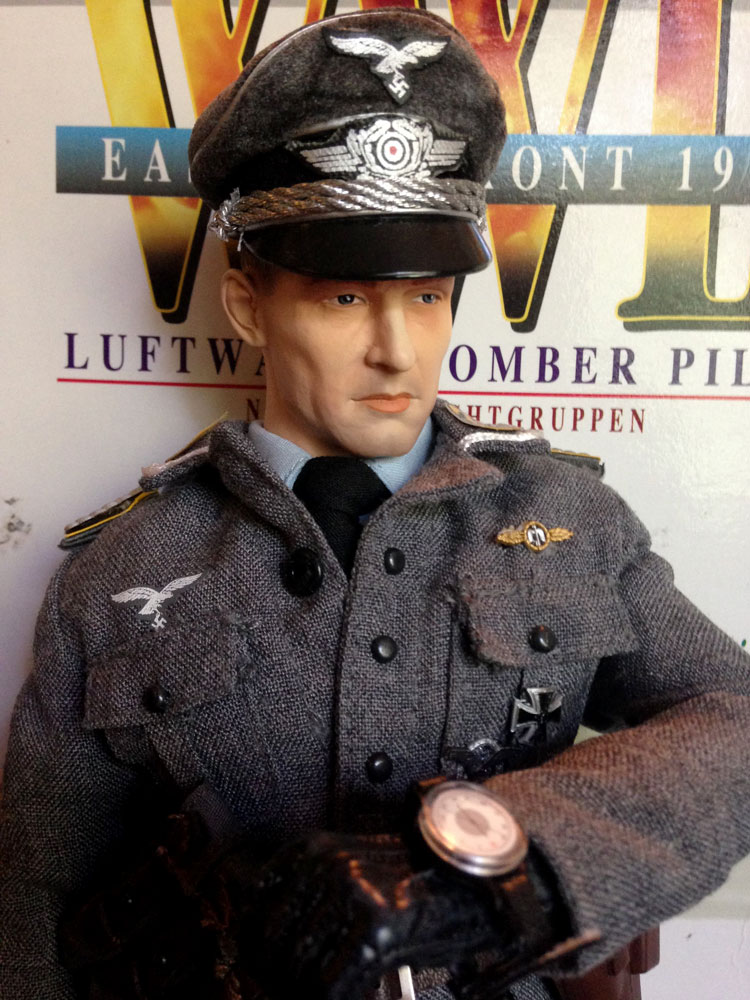 So that's the story. Let's go ahead and show you the box. I'm very excited to be showing this for you too, guys. So here's the figure or a picture of the figure. He looks very nice there. He's World War II, eastern front, 1943. He's a major. That's the inside of the box and on the side, we got another picture there. And there's the back of the box. This guy comes with some pretty unique equipment.
Yeah, let me go ahead and pull him out and you'll see, I think, why this guy is so rare because he's just a beautiful figure. Here he is. Let's just take a moment to look at this figure. I think this guy is beautiful. I just, I think he's very nicely detailed and looks very unique from other Dragon Figure. And I think that's why he's so rare and why he usually is so expensive.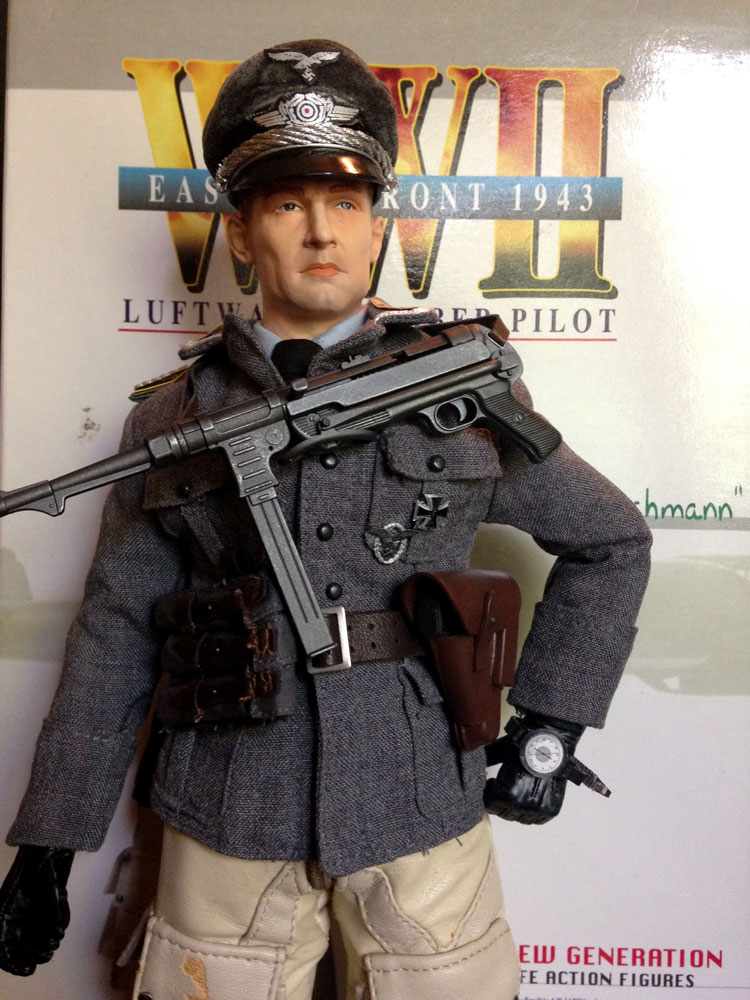 For starters, we'll take a look at his MP40. Always a good standard German machine gun here. So there it is. Got your nice strap on there which can be adjusted. Clip comes out. And of course, you can pull it back and then the bendable stock, of course, for the gun. So nice model, as always. And I think he poses with that really well. I like how they have it in the front with the straps around him like that. I think that looks good.
All right. Now, the figure does come with a lot of stickers and some pins that you can put on his uniform. So let me just show some of these. I didn't put all of them on. Here are two. I actually wasn't sure where to put these so if you guys know, please tell me. I'd love to know where to put those. And also, it comes with these pins that you can put into his uniform which are displayed on the box.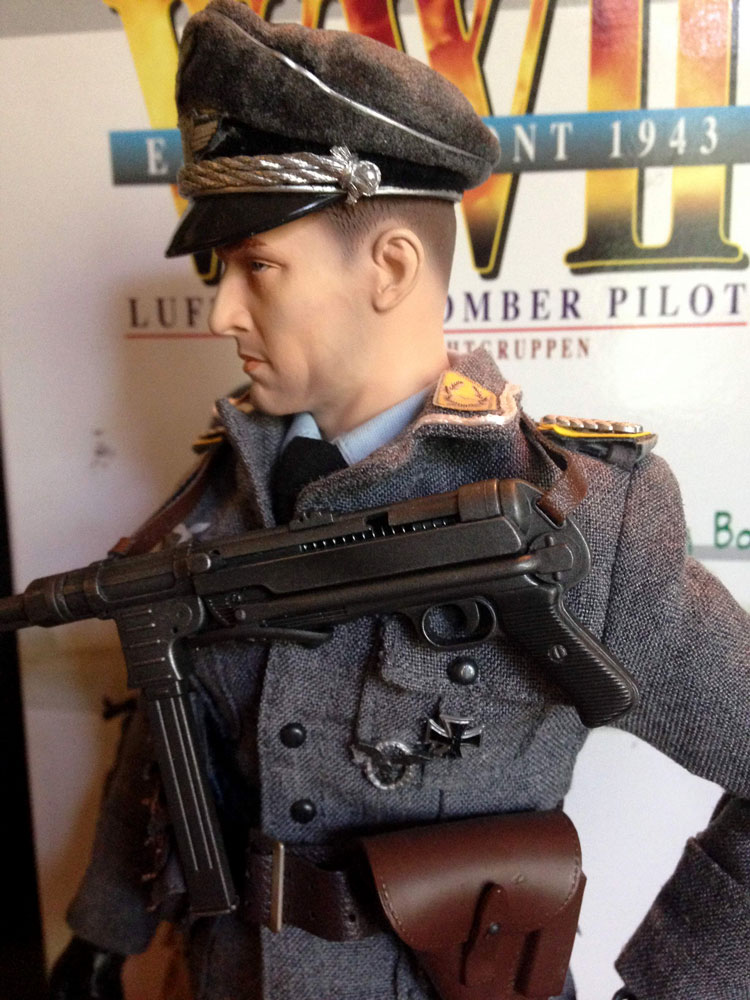 I was having trouble pinning these on to his uniform. They go right over here but they're really hard to push through without breaking these pinpoints. So if you guys have any tips on how to get those on the uniform without breaking them, I would love to hear how you do that. I have had similar figures that come with these and I actually broke the tips because I was trying to push them through and it just wasn't working. So if you guys know of how to do that, please let me know because I really don't want to break those. But anyway, just thought I'd show those.
Now, let's take a look at his cap and his head sculpt. Okay, so his cap looks fantastic. That's really, really nice. It fits perfectly on the figures head. Just looks great. Okay, so here it is up close. I love the silver tassel that's going across, very beautiful. And his head sculpted also great. This is a later model so very realistic. Looks very life-like, I think. It looks great.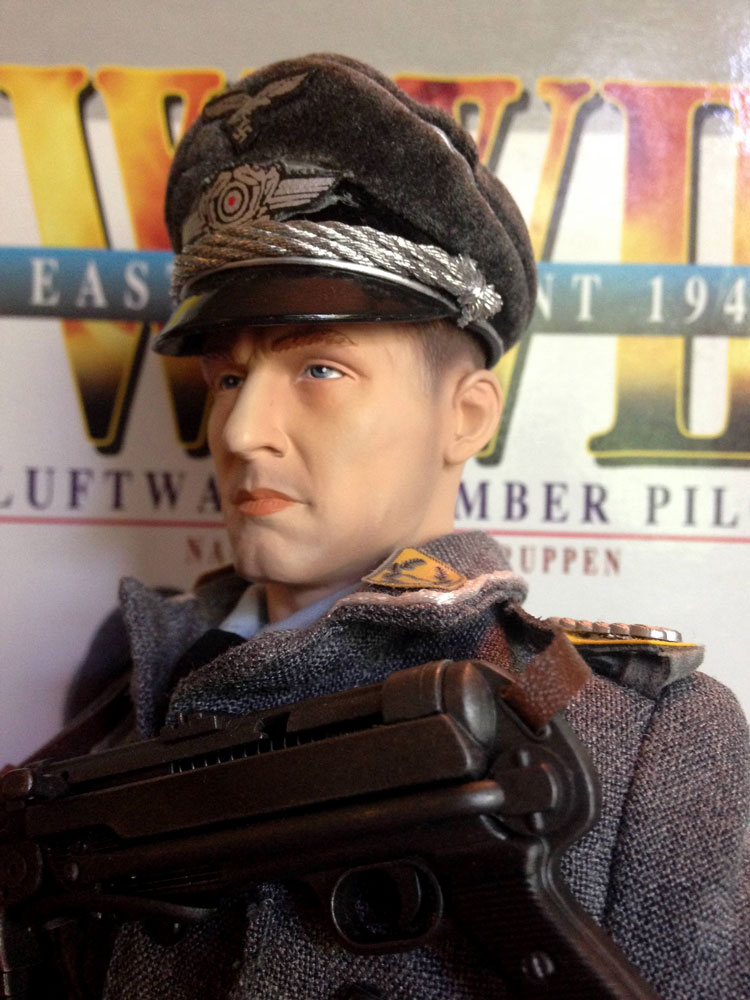 Next up, let's take a look at what's on his belt here. Over here, he has some ammo pouches there so with three extra clips for his MP40. Over here, we have his pistol pouch. And let me take out the pistol for you. Here it is. That looks very nice. You can pull that back. And of course, the clip does come out and they give you an extra one which is over here. And he holds it pretty well, I think. It's not too bad.
All right. And another neat accessory that he has is this wrist compass which I have. Over here, I haven't completely tied it around but I think that's a really nice accessory. Let me take that off. All right. As for his field jacket here, this is very nice and it fits great on the figure. Very nice and snug. See he got a symbol over there and some more stickers that you have to manually put on. Those are great and also these shoulder pads which also look fantastic.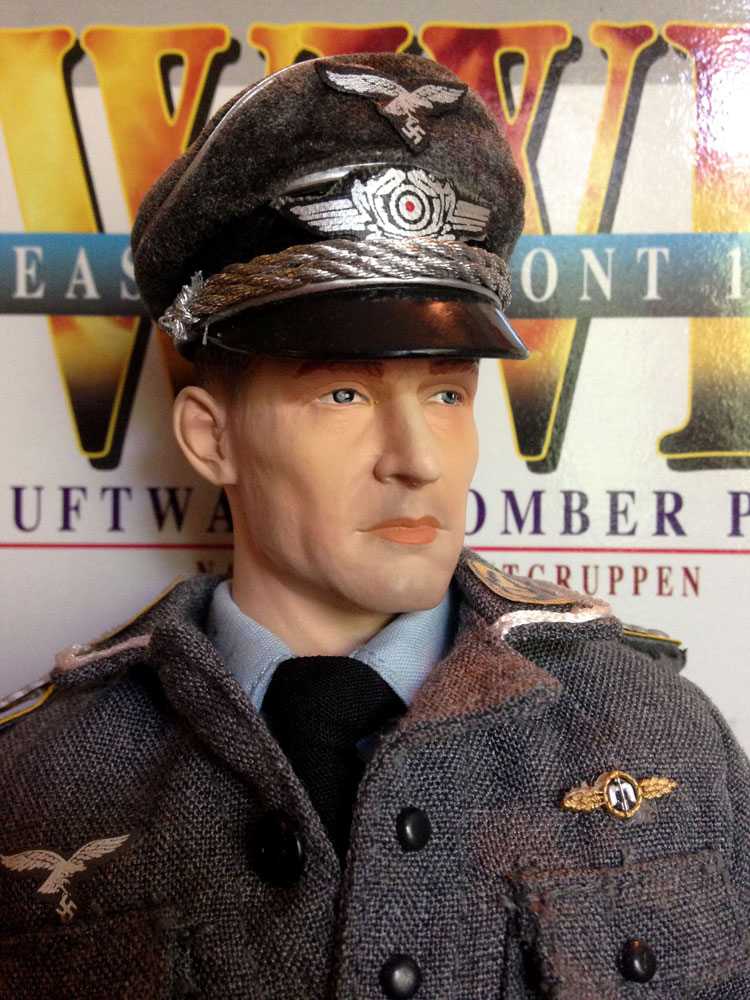 All right. So I'm going to take this off because I want to show you what's underneath. Just give me a second while I do this. All right, so underneath of this is this really nice baby-blue shirt. I think that looks great. He comes with a nice tie which you can put on. There you can see we got another sticker which you have to put on but I think that looks great. Also, really like his black gloves, those look very nice.
And now, let's take a look at his pants. These are called sheep-skinned fleece trousers. They're kind of like a leather material but these look great. I don't have anything like that. So I'm very happy to have that. But you pull the zipper down and a zipper over here as well. Two zippers down here you can pull up. And you can get a better look at his boot. Just give me a second, here we go. His boots are also really nice. You see underneath they're trying to do the fleece trousers there inside. Oh, that's really good quality. But the outside is really cool. I love the kind of leather material.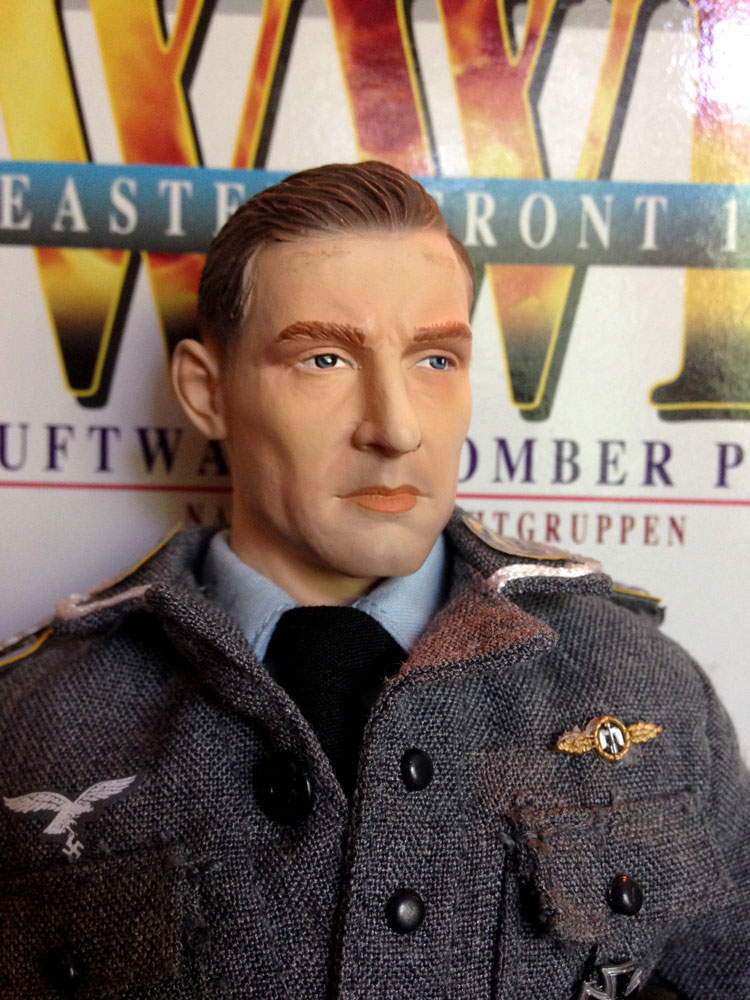 One thing, unfortunately, due to age, part of it did rip off. You can actually see it. In the box, you can see it right over there where it got stuck to the plastic and ripped off which was mentioned in the auction. But honestly, I don't really care because this figure is so rare. I was just so happy to get it for that great price. But you do have to be careful with these. It looks like they do peel off over time, unfortunately. So let's be careful with that.
But I think that's it to show guys. For Ludwig Bochmann, this is a beautiful, beautiful figure. And like I said, I am just so happy to finally own this guy especially for the great price that I got for him. So if you're interested in picking up this figure, well, then I wish you luck in finding him because it's going to be a little while. Unless you want to pay like $225 for him right away, but I wouldn't recommend doing that. But thanks for watching, guys. I hope you enjoyed this video. This is a great, great figure. So thanks for watching and I will see you next time.